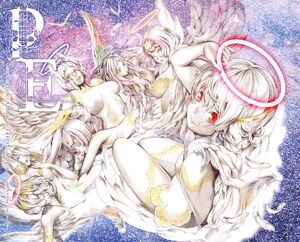 An angel is a servant sent from Heaven by God to retrieve the souls of humans who have passed away. Angels are able to grant humans "freedom" and "love", in the form of wings (freedom), which enable one to fly anywhere in the world without being seen, and the red arrow (love), which lets you control any person's heart by shooting them with it. It has been stated by Nasse that different types of angels give different abilities.
Angel ranks
[
]
Ranking system
[
]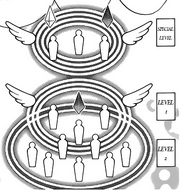 There are four known levels of angels, which from highest to lowest are: special-rank, first-rank, second-rank, and unranked (also called rankless). Angels can be promoted to a level above them, or demoted to a level below them.
The thirteen angels who select god candidates must be at least second-rank. If one of the thirteen angels is demoted to unranked, their god candidate dies. Of the thirteen angels, three are special-rank, seven are first-rank, and three are second-rank. Revel was a second-rank angel at the beginning of the series but was later promoted to first-rank.
The higher the level of the angel the more abilities they are able to give their god candidate. Special-rank angels have the ability to give their god candidates wings, red arrows, and white arrows; first-rank angels may give their god candidate wings and red arrows; second-rank angels may only give their god candidate either wings or red arrows.
Angels by rank
[
]
Special-rank
[
]
First-rank
[
]
Second-rank
[
]
Thirteen angels
[
]
Main article: Thirteen angels
Thirteen angels were selected by God to find the next God.
See also
[
]
References
[
]